Posted 2008-01-21 20:50. Last updated 2008-03-07 19:30. Tagged Echo, Terry Moore, boktips, comics, serier.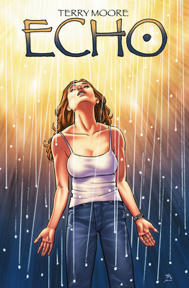 Strangers in Paradise is ended. Luckily, that doesn't mean that Terry Moore has stopped making comics. His new project is ECHO, and by what I've seen so far, it certainly seems exciting!
Updated 2008-03-07 19:30: The first issue has reached Sweden, and I've got my copy.